The first World of Concrete trade show after the introduction of the corona restrictions in the USA took place in Las Vegas. ACS was present with live shows of a new floor solution.
The large number of casinos, huge themed hotels, a busy night life and a colorful portfolio of entertainment events have made Las Vegas famous far beyond its city limits. For the construction industry, however, the world-renowned city in the middle of the Mojave desert in the south-west of the USA has another attraction: It is the site of the largest construction trade show in Northern America, the World of Concrete (WOC).
Last year, the show was canceled due to the corona epidemics. This year, the industry was delighted to hear that it would take place once more, but in June and not in the winter as usual. The hot and dry desert climate with summer temperatures of more than 40 °C did not deter our team, who are used to the hot weather at their base in Tuscon. Thus, they were well prepared for their outdoor exhibition both and eager to get back in contact with their customers after the long unintended break.
With the help of application technology from Tucson, our sales team successfully presented Dura Stone® Flooring – a new, attractive, self-leveling floor covering. https://vimeo.com/547285136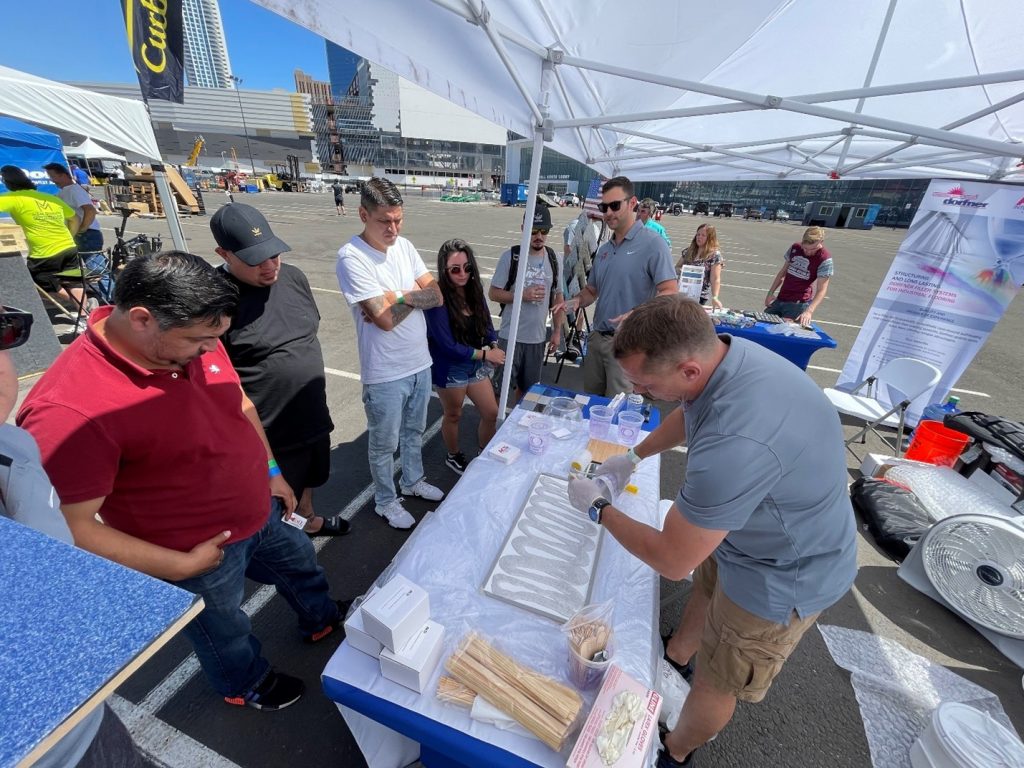 Despite the relatively small exhibition space, the crowds at our booth were large. Our concept of demonstrating the laying process live and with the cooperation of potential customers was very well received and met with lively interest.
The postponed WOC was the first major event to be held in Las Vegas after the lockdown. It revitalized the trade show industry. More than 650 companies exhibited alongside us. Our focus was on intensive networking, the exchange of news from the construction industry, as well as the support of existing customers and the acquisition of prospects.
Kay Rehberg