The market entry in the United States with GRANUCOL® MIX colored quartz mixture shows that success not only requires a convincing product, but also an effective team. The combination of the two is what makes success happen — like with Bradley's new washbasin series.
Shortly after Dorfner gained a foothold in the USA through the acquisition of ACS International in 2017, an international team with experts from Hirschau and Tucson, Arizona set out to acquire new customers. A potential candidate for the filler specialists' solutions was the Bradley company (www.bradleycorp.com) from Menomonee Falls, Wisconsin, USA.
Specialists in resistant washbasins
Bradley is a manufacturer of hand washbasins for airports, hospitals and other commercial premises. These applications offered attractive opportunities for GRANUCOL® MIX colored quartz mixture. GRANUCOL® mixtures have been used as kitchen sink fillers for years. Unlike these products, however, Bradley manufactures extremely large washbasins that are also subject to heavy use in commercial applications. Nevertheless, the use of quartz as a filler promised a competitive advantage and a leading market position for Bradley.
An initial technical meeting between the Bradley team and the experts from Hirschau took place in May 2018. In the spring of the following year, ACS International passed Bradley's Purchasing department audit. This was the "green light" for the partnership to go ahead.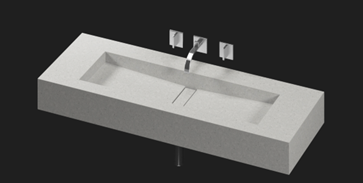 A new series of washbasins
Bradley recently released new washbasins with Dorfner colored quartz under the brand name EVERO (https://www.bradleycorp.com/evero-natural-quartz-surface). Our colored quartz improves the properties of the basin significantly. Bradley even developed a partially new manufacturing method that allows colored quartz mixtures to be used in such large basins. The background: extensive reworking is not possible because the process would wear off the color coating from the quartz grain surface and thus change the design. Precision is therefore immensely important throughout the entire manufacturing process.
Strong team
All in all, everyone involved in the Dorfner ACS team did a highly professional job. This was rewarded with the award of an order at the end of 2021. A big thank you goes to ACS Sales Manager Chris Hurdleston and Marco Suess, Team Lead in the Composite Solutions business unit, as well as his colleague Gerlinde Siegert.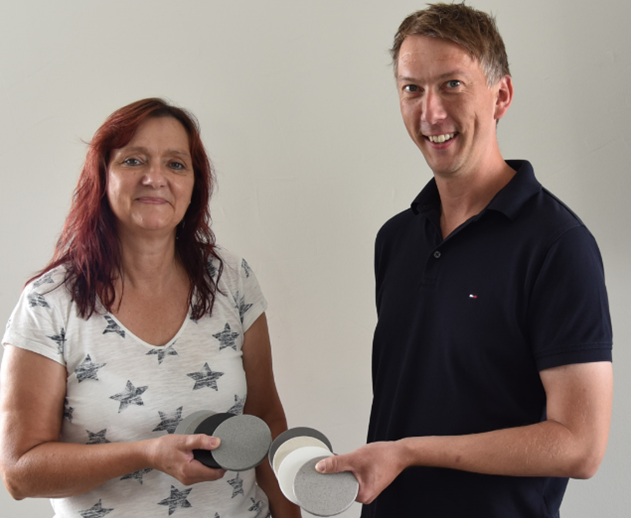 The new Bradley Evero line with GRANUCOL® MIX from Dorfner has been a massive sales success.
Kay Rehberg