In order to secure the raw material quantities for the demands of the market in the years 2021 and 2022, it was necessary to expand the Dorfner workshop in a westerly direction as part of raw earth extraction planning.
A lot of things had to be set in motion for this project: the GEBA processing plant was partially dismantled because it was located in a future mining area. And pond 13, which supplied the GEBA plant with process water, was also in the affected area.
Keeping operation going
As if these challenges were not enough in and of themselves, the project team faced another hurdle: all conversions and changes to process flows had to be made whilst keeping production going. This was especially important for customers who produce seven days a week and rely on an uninterrupted supply, such as the glass industry. Thanks to sound planning and the high level of commitment of everyone involved, these and other customers were fully supplied over the entire conversion period from February to October 2021.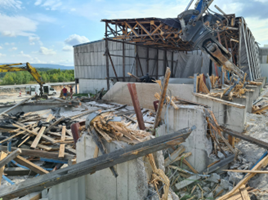 Well thought-out and sustainable
To supply the plant with fresh water and deliver process water, we switched from pond 13 to pond 6. For this purpose, the pipeline network and the pumps had to be adjusted to the new conditions.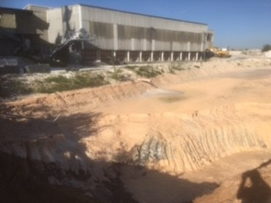 As part of the partial dismantling that was carried out, the drainage boxes were mostly dismantled. This resulted in large quantities of concrete, which could be crushed and sieved directly on site. Recycled material is now available for future projects, for example to stabilize subsoil. In order to ensure stable production with the remaining boxes, the remaining stockpile structure and its filling was rebuilt via conveyor lines.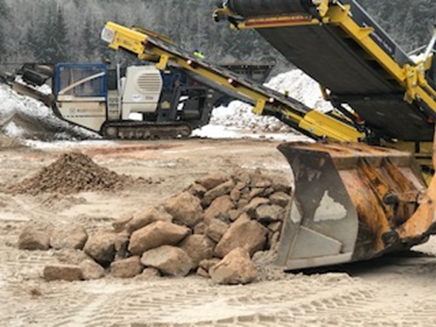 Delivery on time
In addition to maintaining uninterrupted production, we also managed to meet the agreed deadline for completing the partial dismantling. Thanks to the tireless efforts of all ten companies involved and the colleagues from the GEBA plant, the site for raw material extraction could be handed over to the mining company on time.
Many thanks to everyone involved! Together, we were able to master this challenging task on a tight schedule and thus secure raw material extraction in the long term in the interests of our customers and our company.
Wolfgang Wendel