With the goal of improving personal fitness while working at a desk, in the office or in the home office, Dorfner founded its "moving lunch break by Corporate Cyber Company Fitness" already back in October of 2020.
In cooperation with Sportgeist Amberg, employees of the Dorfner company "exercise" every Tuesday and Thursday from 12 to 12:30 pm. This is because, as it is frequently quoted by the media "Sitting is the new smoking". Stress of monotony and general lack of exercise are now known to be the main causes of sustained damage to a person's locomotor apparatus – and a driver for psychological disorders. Here, the offer of exercise for all employees is intended to actively fight these issues.
Primary approaches of these weekly units are mostly the activation of the whole body muscle system, but also the strengthening of the core muscles in order to prevent muscular imbalance or degenerative diseases of the spine. Training for better posture, exercises to improve mobility, but also the influence of neuro athletic training round off this program and offer some variety during training. These exercises take place directly at the desk by means of folders or books, which are in easy reach in every office, in spite of office digitalization. Thus, movement and exercise are possible even without intense preparation and additional equipment.
Our Trainer:
Stefan Witetschek (30), fitness economist BA, majoring in rehabilitation and athletic training, has additional qualifications in the areas of Functional Training, Sling Training and Neuroathletics. He is currently an active participant in university continuing education of the Barca Universitas in the areas of neurobiology and injury prevention. Stefan Witeschek has been the owner/operator of SPORTGEIST Amberg since 2015 (insert link: https://www.sportgeist-amberg.de/), the studio for personnel and EMS training.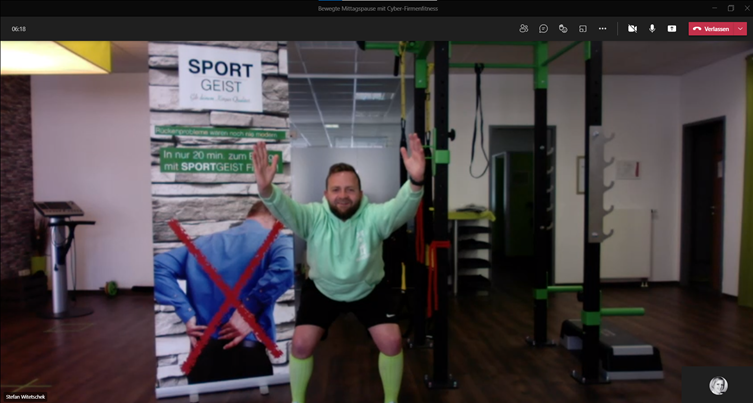 Sabine Hörig