The Federal Ministry for Economic Affairs and Energy (BMWi) has given awards for resource-efficient management in Germany for the ninth year.
Federal Minister of Economics Peter Altmaier: "I warmly congratulate this year's winners! The economical and efficient use of raw materials is a crucial component of sustainable development and an important pillar of the European Green Deal. This year's winners of the German Raw Material Efficiency Prize have set examples in innovative achievements in this area"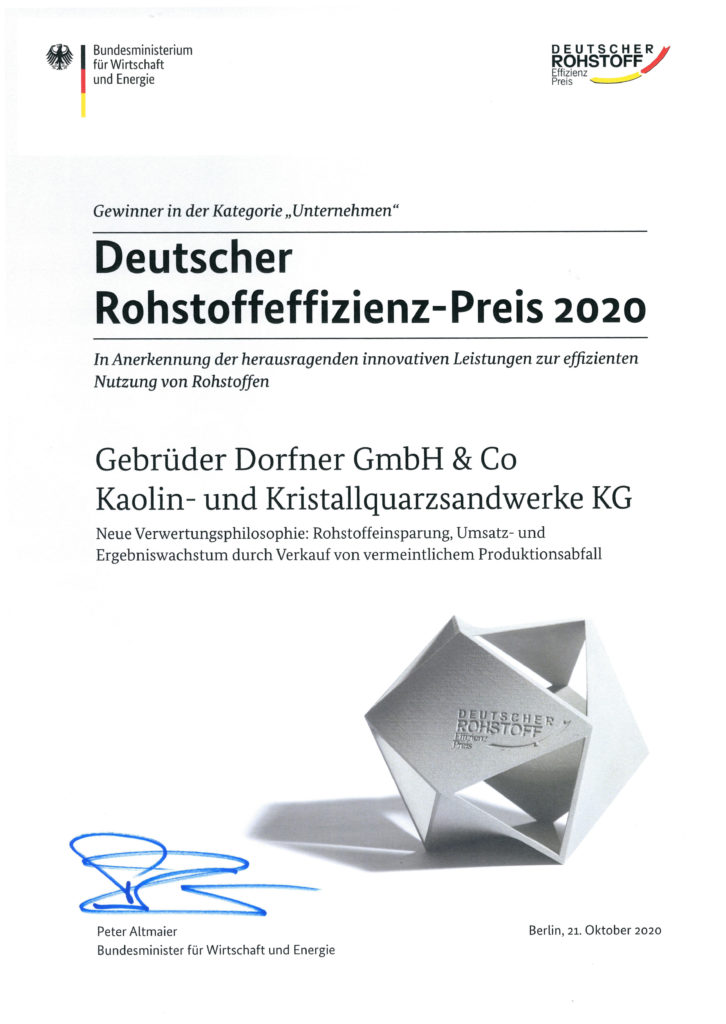 Since 2011, the BMWi has awarded the German Raw Material Efficiency Prize to outstanding examples in the field of raw material and material-efficient products, processes or services as well as application-oriented research results. In 2020, the focus will be on processes for reusing both simple and complex residual materials used for the preparation and manufacture of new products
Gebrüder Dorfner GmbH & Co. Kaolin- und Kristallquarzsandwerke KG was awarded the German Raw Material Efficiency Prize of the Federal Ministry for Economic Affairs and Energy for rigorous recycling of production waste in new applications and the resulting conservation of resources.
The new recycling philosophy is based on the search for new applications and the high-quality marketing of the by-products that arise in Dorfner joint production. These were previously considered waste or were at best inferior B or C goods. In contrast, by-products are systematically analyzed today: Which ingredients are included? For which target groups, potentially in completely different industries, are these by-products a valuable A-quality raw material?
The success factors: in addition to product, market and technology knowledge, thinking outside the box and everyone having the fundamental will to change.
We have managed to assert ourselves among a large number of companies and today we can be proud to have received this award. This is proof that we at Dorfner have internalized the philosophy that careful use of resources can add value for us as well as for our environment. Our special thanks go to our Secondary Product Streams Recycling team: Dr. Katrin Ehrhardt, Josef Krügelstein, Rainer Kunstmann, Gerhard Heindl, Wolfgang Siegler, Reinhard Kräuter and all employees, directly or indirectly involved, from internal sales, logistics, financial accounting and controlling, processing, kaolin and quartz refinement and loading.
Initial ideas in a small group can only be implemented if all employees and departments make their contribution in the course of implementation.
Thanks to the commitment and knowledge of those involved, we have succeeded in converting residual materials which arise during the production of Dorfner filler systems into primary raw materials for other industries. The identification of these industries and the marketing of the company's own residual materials not only leads to sales and earnings growth through sales, but also to immense raw material savings for customers.
We are extremely pleased that our efforts have not only been recognized, but have been rewarded by the Federal Ministry for Economic Affairs and Energy.
Thank you for all of your commitment and your contribution to the benefit of our Hirschau site. I also see this as a sign of the willingness of Dorfner employees to change, to embrace new things and to master new challenges.
A competence that will become even more important in the future.
Reinhard Kräuter