The family business is proud of its history and success, which would not have been possible without the commitment of its employees. Because of this, employee satisfaction plays an important role at Dorfner. Here are some of the most popular employee benefits:
Employee benefits at Dorfner:
Here are some of the most popular employee benefits:
– Refueling at Dorfner: Discounted diesel fuel in the factory.
-Fit and healthy to work: on a Dorfner bike.
– Introduction of credit balances: From 2020, salary components can be collected and used for vacation or early retirement.
– Promotion of further training: Financial support for further training.
-Van sharing: Rental van from Dorfner when required – e.g. for moving house.
– Special vacations: Additional vacation days for occasions such as marriage, anniversaries, births or deaths.
– Additional benefits: Lunch allowances in the canteen, work clothes laundry for Production employees and much more.
What apprentices particularly like about Dorfner
"I am studying at Dorfner because I wanted to do my apprenticeship at a company where you are still a person and not just a number." – Sarah Demel
"Dorfner is one of the largest companies in the region and also operates internationally." – Anja Herbst
"Exciting work, interesting projects and good opportunities for personal development." – Niklas Spies
"I appreciate the good working atmosphere and nice colleagues at Dorfner." – Christina Ott
"I work at Dorfner because I get very good technical, wide-ranging training here." – Sebastian Meissner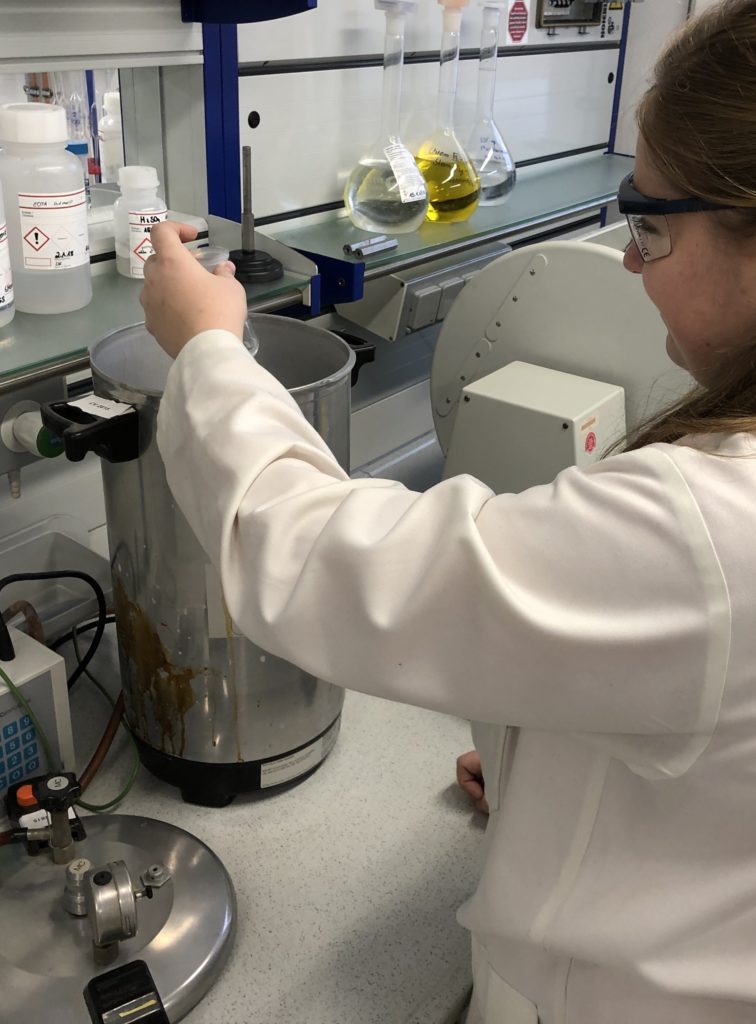 ANZAPLAN success stories
"The work at ANZAPLAN is extremely varied and I am always learning something new. In addition, there's the nice colleagues with whom I meet outside of work", says a delighted Johanna Stenzel . This year, she passed her final exam as a state-recognized apprentice chemical laboratory technician with flying colors, with special commendation from the government of Upper Palatinate! The tasks at ANZAPLAN are correspondingly broad. Whether in chemical and physical analysis or quality control, exciting activities on the latest analysis devices are all around – from scanning electron microscopes to high-tech trace analysis, all doors are open to you!
Magdalena Keilholz passed her final exam as a state-recognized apprentice chemical technician with a straight A, and with distinction! Since completing her training, she has been working in the brand new hydrometallurgical pilot plant, assisting in the development of raw materials for energy storage – from cell phones to Audi e-tron. "The implementation of projects, for example the operation of the pilot plant to produce lithium carbonate, is simply ingenious and also highly varied because I gain insights into the production process and the technical processes", says Magdalena Keilholz. Another thing: she's the first woman to get a forklift driver's license at ANZAPLAN!
We congratulate Ms. Stenzel and Ms. Keilholz and wish them every success in their careers at ANZAPLAN
ANZAPLAN – attractive for trainees
ANZAPLAN is always looking for motivated trainees, but also has a lot to offer career starters:
International raw material projects: Various tasks in the field of raw material characterization and processing – both on a laboratory and on a pilot plant scale.
Interdisciplinary team: Trainees are guided by highly qualified engineers and scientists and work with innovative preparation concepts and well-equipped laboratory and pilot plants.
Quality control: Taking responsibility is part of the job. ANZAPLAN ensures the consistently high quality of Dorfner products.
Facts about starting your career at Dorfner
Currently almost 20 trainees (including ANZAPLAN)
The following job profiles are available:-Industrial clerks, industrial mechanics, mechatronics technicians, electronics technicians, IT clerks, chemical laboratory technicians, chemical technicians
-Trainees in many areas (commercial, R&D, production, ANZAPLAN)
-Support for bachelor's and / or master's theses
-A dual degree in business administration will be available from next semester (further subject areas are being planned)
-Scholarship agreement with the East Bavarian Technical University
At ANZAPLAN, for example, value is not solely placed on qualified training. Common leisure activities for good team spirit also play an important role. Squash games take place weekly and common activities, such as a boat ride on the Vils with beer tasting, are popular.
From intern to department head
Marco Suess started an internship at Dorfner on October 4, 2011. Today he is head of the R + D department and reflects on a picture book career with us. It is a win-win for employees and employers if a company invests in the training of a career starter who goes on to remain loyal to the company with their knowledge and skills for many years. This plan worked out perfectly between Dorfner and Marco Suess. After a successful internship, Mr. Suess took on a student traineeship at Dorfner in September 2012. A year later, he also wrote his master's thesis – also at Dorfner. In 2015 Marco Suess joined the R + D team as an employee. Today, eight years after his internship, he manages 5 employees as head of the department.
"Our professional future prospects are not built on sand", enthuses Marco Suess about Dorfner as a down-to-earth, multifaceted and future-proof employer. The thing that has always attracted Mr. Suess to his work at Dorfner is the variety of questions and development topics in contact with customers and suppliers. For him, Dorfner is characterized by internationality and globalization on the one hand and by having a local touch on the other. At Dorfner, he and his colleagues enjoy the trust that is placed in them and the freedom that is offered.
Monika Timm / Franz Hofmann / Dr. Sebastian Prinz